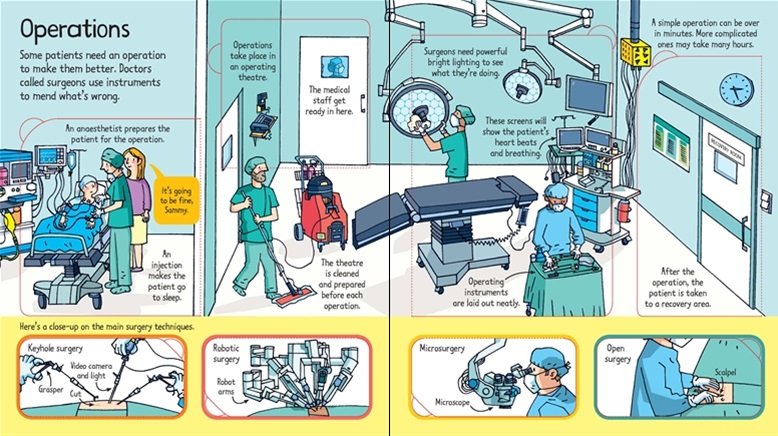 Georgina Forman has seen a lot of worried young faces come into her hospital.
She runs the pre-assessment clinic in a paediatric day surgery unit, where children are assessed before they undergo procedures involving anaesthesia.
"The little ones aren't quite sure what's going on," says Georgina, a nurse at Cambridge University Hospitals. "Sometimes, they're very nervous."
She says children have a lot of questions about what will happen during their time in hospital. Will they be separated from their family? Can they wear their own clothes? Will it hurt getting a needle in their hand when the cannula is put in?
So Georgina and her colleagues do what they can to put children at ease. While doing their assessments – checking things like height, weight, and body temperature – they also talk to children about what to expect.
But those aren't easy conversations. Hospital are big, busy places, and even most adults don't fully understand what goes on inside their walls. So Georgina says it's important to speak to children in terms they can understand.
That's why the Coming to hospital leaflet has been a helpful resource for Georgina and her paediatric day surgery colleagues.
A resource for paediatric day surgery staff
The fold-up information leaflet, which was distributed at Cambridge University Hospitals starting in September, is designed to demystify the hospital for children through kid-friendly illustrations and explanations.
The leaflet features sections on outpatient care, scans, tests, and operations. There is even a part about needles and cannulas. It explains to children that a special cream will numb their hand before the needle goes in.
"That makes them feel better," Georgina says. "It's good to have (the leaflet as) a visual aid. We can show them a picture of the cream, so they know what it's going to be like."
Though the leaflets were just introduced in September, the idea was more than five years in the making. It started when Dr Zoë Fritz, a consultant physician at Cambridge University Hospitals and Wellcome fellow based at THIS Institute, noticed a gap in children's literature. There were books about everything from airports to castles, but there were hardly any books about hospitals.
"Most children will have exposure to a hospital at some point," Zoë says. "It's quite a scary place if you've never been there before."
Researching a lift-the-flap children's book
Zoë had previously worked with Usborne Publishing as a consultant on their bestselling See inside your body. She then went on to provide expert input into Look inside your body and The human body sticker book. So she collaborated with Katie Daynes, a writer and editor at Usborne, to create and publish a lift-the-flap children's book called Look inside a hospital.
To research the book, Zoë and Katie studied different hospital interiors and consulted with specialists in areas like surgery, radiology, and haematology – all of whom appear as characters in the book. Look inside a hospital also features a character named Josh, based on their friend's seven-year-old son, who served as a consultant researcher for the book. Real-life Josh has been in and out of hospital in recent years while battling leukaemia. His experience helped him highlight issues that were important for children to know, including why it's so important that everyone washes their hands, and how it's okay to bring your favourite toy to hospital.
"He looked over the material and pointed out things that didn't look right," Zoë says. "He took his job very seriously."
The book was first published in January and has since received a lot positive feedback, including an award for best designed/illustrated book from Junior Magazine. The content proved so valuable that one of Zoë's colleagues – paediatric surgeon Dr Stephen Farrell – suggested they make it more easily available for children coming to hospitals.
Zoë went back to Usborne hoping to adapt the book into a fold-up information leaflet for hospitals. Usborne agreed, and Cambridge University Hospitals agreed to distribute the leaflets in some of their paediatric units. But it wasn't enough just to give out the leaflets. They needed to evaluate them to see whether they made any impact on the children who received them, and whether it was worth rolling them out in other units and hospitals.
Evaluating the impact
To do just that, the authors worked with two medical students, Elisha Clarke and Sanjana Sanghavi. The team first conducted a literature search on existing information leaflets for paediatric patients and how they were evaluated. They developed the leaflet with input from the ACTIVE paediatric group (a paediatric patient and public involvement group), and developed and validated a questionnaire with child volunteers. Once the leaflets were rolled out, they asked children and families to report on their experience of the leaflet through a questionnaire.
Early results from the questionnaires were positive. Children said the leaflets "made them more calm" and "made them realise there is nothing to worry about". No negative consequences were reported. Some small changes were suggested, which will be incorporated in the next version, which Usborne has agreed to work on and make available more widely. Given these results, Zoë hopes that other hospitals will take the leaflets on, so that they can help children across the UK feel more comfortable coming to hospital.
"I hope children love it," she says. "I hope they take it home with them from hospital, and it helps them remember the hospital as a friendly place."